Artistic Entities gives local artists an opportunity to display and sell their work in the Calgary area.  Newly founded in 2012, Artistic Entities brings art to the downtown buildings of Calgary.  Artists are selected to display original fine art pieces whenever a venue is available.
We are looking for local Buildings that would take a stand to support Local Artists by hosting displays in open areas within their facilities.  Each of our shows are manned during business hours, and Artistic Entities has insurance to cover any damage liability on part of the hosting building.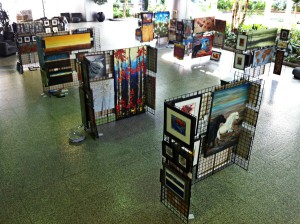 Artistic Entities has created a professional cohesive show by displaying on a matching rack system that can easily be configured into many different setups.  Members sit the shows through our week-long exhibitions to answer any client questions and often will provide demos on painting and art-related activities.  Bringing Art to the people is a large focus of Artistic Entities.  Many clients don't get the opportunity to visit galleries, so this opens the door to a whole new experience for many clients.
The art exhibits are well received by the building tenants, as they enjoy browsing through the work, or discussing art appreciation.  With each show, Artistic Entities provides an open draw for a special piece of artwork to be won by a lucky participant.  We have the ability to accept several forms of payment from clients, including Visa and Mastercard.  Clients have often commented on how great our shows look, professional, with a wide variety of artistic styles to suit many different clients.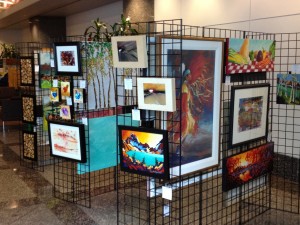 Artists wanting to participate in Artistic Entities shows must apply for a position.  Samples of their work must be viewed by a Member.  All Artwork must be complete, and ready to hang for the clients purchasing the piece.  All artwork is to be framed or on acceptable Gallery wrap canvas.  Clean and unmarred presentation is of key importance to the submissions.
For further information regarding Artistic Entities you may contact Karen Biko directly through e-mail or by phone at 403-880-5256.  We would appreciate any support or space where we can showcase our art.
This slideshow requires JavaScript.