Artistic Entities will be holding their Premier Show at the Scotia Tower in downtown Calgary.  The show is the first exhibition with selected Calgary Artists.
Monday June 11th to Friday June 15th
700 – 2nd  Street S.W.
We will have a door prize available for one lucky attendee, so come try your luck and enjoy all the new work.  Artists featured at this show…
Barb Fedun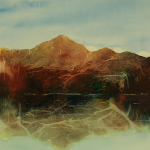 Growing up in the west coast rain forest shaped Barb's appreciation for nature's beauty. Living in the foothills of the Rocky Mountains fuels her passion for outdoor pursuits. She  enthusiastically cross country skis, races around on her road bike, challenges herself mountain biking and loves hiking. Yoga, tai chi and meditation creates balance and brings stillness and silence helping her align with the creative impulse. She believes her job as an artist is to be in the moment and pay attention to images that tell her they need to unfold. Music and spontaneous dancing in the studio help release emotion onto her canvas creating an expressive image. Barb's hope is that you as the viewer will sense a connection to these images.
Namaste    Barb's e-mail:  barbsphotography@mac.com
Connie Christensen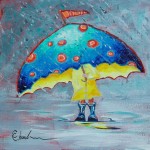 For Connie Christensen humour has been a common thread running through her life and art.  As a result, a wink towards humanity often appears in her paintings.  It may be the choice of subject, the unexpected use of colour or the mischievous glint in the eye of a hen.
Lately she has been focusing on the subjects of animals with attitude, 'Bubble Trees' and all things joyful.   Connie's website
Donna MacDonald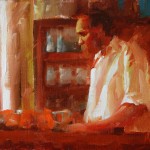 Donna is an award winning full time artist working and teaching in Calgary. Although representational she considers herself an impressionist using loose brushstrokes to simplify and suggest details.  Many of her paintings capture a moment in time of people going about their daily lives.  As a way of "paying it forward" Donna donates 10% of her profit from the sale of her paintings to KIVA, an organization that provides loans to people in third world countries to start or expand a business.  She is an active member of the Canadian Federation of Artists as well as a member of the Oil Painters of America and is represented by Swirl Fine Art Gallery.  Donna's Website
Jan Chalupnicek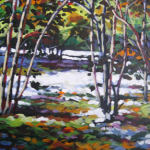 Jane Romanishko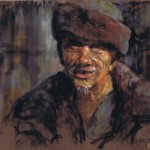 Before finally settling in Canada, Jane lived in Estonia and the United States.  Being equally proficient in oil, watercolour and pastel allows her to be a versatile artist and teacher.  Her professional accomplishments include the founding of The Airdrie School of Art,  co-founding and managing of the Airdrie Artisan's Holiday Market and co-founding Airdrie Regional ARTS Society.   Jane's Website
Janine Alexander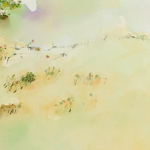 Janine pursued her childhood passion for art, taking her first classes at the Edmonton Art Gallery when she was 10 years old. She went on to earn a Fine Arts diploma from the Alberta College of Art and Design in 1983. Janine's major was Textiles, where she created hand painted kimonos. She took the first Japanese Silk Dyeing course taught by Bill Morton in Calgary, who at the time was an apprentice to a kimono designer in Japan, an artist revered as a Living National Treasure. She learned the Bokashi technique, where dye is blended with a brush. This technique was a valuable cross-over to her love of painting on paper with watercolours. To this day, her work is still influenced by Japanese art. Her paintings and textile pieces can be found in numerous private and corporate collections, the collections of several interior designers, and the permanent collection of the Alberta Foundation for the Arts. She also has 25 years of experience as a graphic design artist, first as a designer and manager of the art department at a prominent design firm and, for the past 14 years, as a freelance designer.
Karen Biko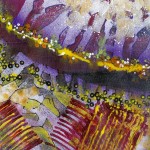 Experimenting and playing with paint is Karen's main activity.  Her paintings   express a variety of emotions as well as colour and depth.  Creating many of her own tools and using textures that are often found in the recycle bin gives her work an original touch through the abstract.  Karen's Website
Michelle Kennedy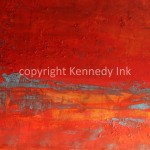 Being a mainly self-taught artist, Michelle is not limited by adherence to the rules of traditional art and composition.  Not knowing what her constraints should be, she has none besides those she places on herself – namely to create in an environmentally conscious manner, and to learn from others as much as possible without veering from thoughtful emulation of their practices and processes.  To expand upon her base of knowledge, she has attended the Calgary School of Art with a focus on abstract painting.  In 2011 Michelle completed the daSilva Method™ Certificate requirements and is now an instructor in her own right, and has curated shows in Calgary's Art Central.  As well, she has branched out into digital compositions and has taken online courses with Jessica Sprague to enhance her skills with photography and Photoshop, marrying the two veins of photography and abstract art.  Michelle has always been a creative soul and cannot imagine a life without learning, growing, and creating art.  Michelle's Website
Sheila Schaetzle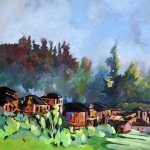 Art has always been a part of Sheila's life, from a young age she sketched and studied art.  She continues to expand her knowledge of various water media and oil techniques and strives to paint every day.
Sheila enjoys working in both acrylics and oils.  She enjoys travelling, painting plein air, yoga, and walking her dog in Fish Creek Park where she continues to find inspiration each and every day.     Sheila's website
Terri Heinrichs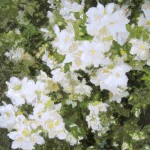 Terri Heinrichs is a self-taught artist who views every experience as an opportunity to learn and experiment with her artwork. She gains inspiration from working with other artists, photographs that she takes, and methods learned from a wide variety of resources.  Exploring new ideas and mediums keeps Terri's art fresh and interesting.         Terri's Website